Back To Menu
Chopped Garlic Steak Plate
Flank steak, sauteed mushrooms and onions with crushed garlic, scampi seasoning and white wine 
Chopped Garlic Steak Plate Modifiers :
No Mushrooms
No Onions
No Crushed Garlic
No Scampi Seasoning
No White Wine
Hawaiian Plates Side :
Scoop Mac Salad
Mixed Greens
Hawaiian Plates Rice :
White Rice
Brown Rice
Fried Rice
+0.50
Have you tried this item? Pop it!
Help other diners know what to expect by sharing your experience.
4 people have popped this item
Photo Gallery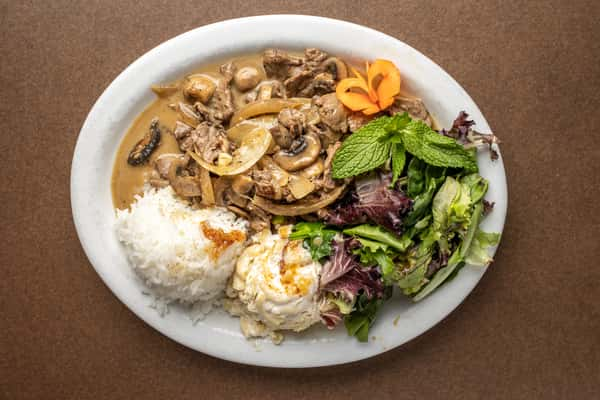 Back To Menu
Chopped Garlic Steak Plate
Flank steak, sauteed mushrooms and onions with crushed garlic, scampi seasoning and white wine 
Chopped Garlic Steak Plate Modifiers :
No Mushrooms
No Onions
No Crushed Garlic
No Scampi Seasoning
No White Wine
Hawaiian Plates Side :
Scoop Mac Salad
Mixed Greens
Hawaiian Plates Rice :
White Rice
Brown Rice
Fried Rice
+0.50
Back To Menu